Chromium is an open source browser that Google's Chrome team uses to build their own browser. Google just released a new update for the Chromium project and it comes with some pretty big changes, so what are they?
The "Chromium browser is the open-source project that develops the open-source web browser called Google Chrome. The Chromium browser is a fork of the original Google Chrome code, which was created by Google."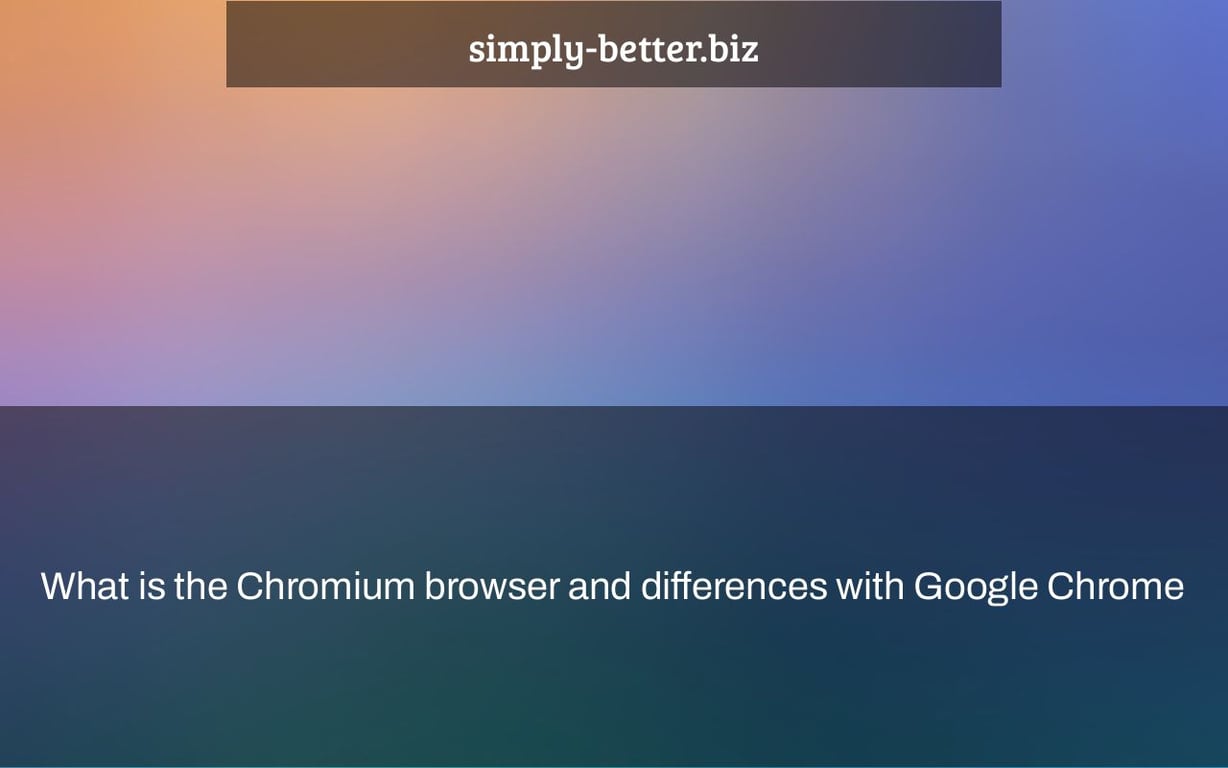 What are the differences between Google Chrome and Chromium, and how do you use Chromium on a computer?
Chromium is an open source browser that is poorly known to the general public but is vital for online browsing: it is the parent of Google Chrome and the latest version of Microsoft Edge, the two most popular browsers on the planet.
Because it is totally open source, Chromium is one of the browsers that can be found in the software repositories of most Linux distributions, making it easier to install than Google Chrome, which must be downloaded from the official website. Chromium OS is the name of the open source project that powers Google Chrome OS, the operating system for Chromebooks, much as Chromium was the project that gave birth to Google Chrome.
In the following tutorial, we'll go through the differences between Chromium and Google Chrome so you can choose the best browser for your needs depending on the operating system you're using and the environment you're in (for example, those who want a fast browser that does not spy on and does not collect navigation data).
READ ALSO -> Alternative browsers to Chrome and Firefox, different and worth trying
Chromium vs. Chrome: What's the Difference?
The first difference that stands out is the kind of coding used on both items. Google Chrome is a browser provided by Google (even the logo is protected by copyright), and many items released as closed code (taken from Chromium), allowing only Google to access or modify it as needed; on Chromium, all packages and features are open source, allowing them to be implemented on other browsers (as Google does with Chrome and Microsoft with Edge) and modified as needed.
Another distinction between Chrome and Chromium is the plugin packages and "closed source" codecs, which Google controls: Chromium lacks support for multimedia files such as AAC, H.264, and MP3 that Chrome does. Both browsers provide the most common free codecs, such as Opus, Theora, Vorbis, VP8, VP9, and WAV, which are more than sufficient for most video and multimedia material on the web.
Google Chrome also has crash and bug reporting features that Chromium lacks. A security sandbox is also included in both browsers to prevent malicious websites from crashing the whole browser. Because the code capable of running add-ons is the same, extensions built for Chrome operate perfectly on Chromium.
Support for Google services is another significant distinction between Chromium and Google Chrome. In the past, Chromium supported Google services, allowing users to synchronize bookmarks, history, and installed extensions in the same way that they could in Google Chrome; however, Google recently removed support for Google services on Chromium, forcing users who need to synchronize to use Google Chrome as their default browser.
This raises a question for the next chapter of the guide: why is Google promoting Google Chrome over its open source counterpart?
Chrome and Chromium's privacy study
Many parts of Chrome are dependent on Google servers, particularly in terms of privacy and default settings. During his time, we have compiled a summary of Chrome's privacy and security features.
Automatically correcting site URLs, the search prediction service, anti-phishing security, the automated translation system, and spelling mistake correction are all features that are intimately linked to Google servers. Much of Google's revenue comes from user behavior analysis, which is much easier to conduct with Google Chrome than with Chromium (and this gives the answer to the question posed at the end of the previous chapter).
Those seeking utmost privacy should use either Chromium (which is now completely free of Google closed components) or Mozilla Firefox.
Chromium is available for purchase.
Thanks to the existence of repositories devoted to automated updating with each new version, Chromium may be readily installed on GNU / Linux distributions. From the terminal, use the following commands to install it on Ubuntu or Linux Mint:
chrome sudo snap install
We suggest that you test the browser on Windows by downloading Chromium portable, which is a portable version that does not need installation (it can start from a simple USB stick).
Conclusions
Chromium might be the best option for a Linux distribution that stays up to date owing to the repository. Although the fact that Chromium is open source and independent of the web's huge multinational corporations is commendable, the absence of sophisticated functionality such as synchronization of favorites or history renders it a flawed application.
You may also think negatively of Google Chrome from a privacy standpoint, but it is without a doubt the finest browser ever on both PC and smartphone, filled with features, extensions, and apps, and updated every month with new features added by the Google development team.
In Windows and Mac, the option is therefore required, and if you just do not want to use Google, you can always install an alternate Chrome version.
We may also read our article on how to download or upgrade Google Chrome with offline installation for more information.
The "chromium-based browsers" are a type of web browser that is based on the open source Chromium project. They include Google Chrome and Opera.
Related Tags
what is chromium browser
chrome vs chromium chemistry
chromium vs chrome ram usage
chromium vs chrome performance
chromium browser download