The San Luis Obispo County Board of Supervisors is moving ahead with legislation to fill vacancies in the county's elections. The proposal, which was introduced at Tuesday night's meeting, will require candidates for judicial retention and election for those offices be required to run as a nonpartisan candidate if they do not already hold another elected or appointed office.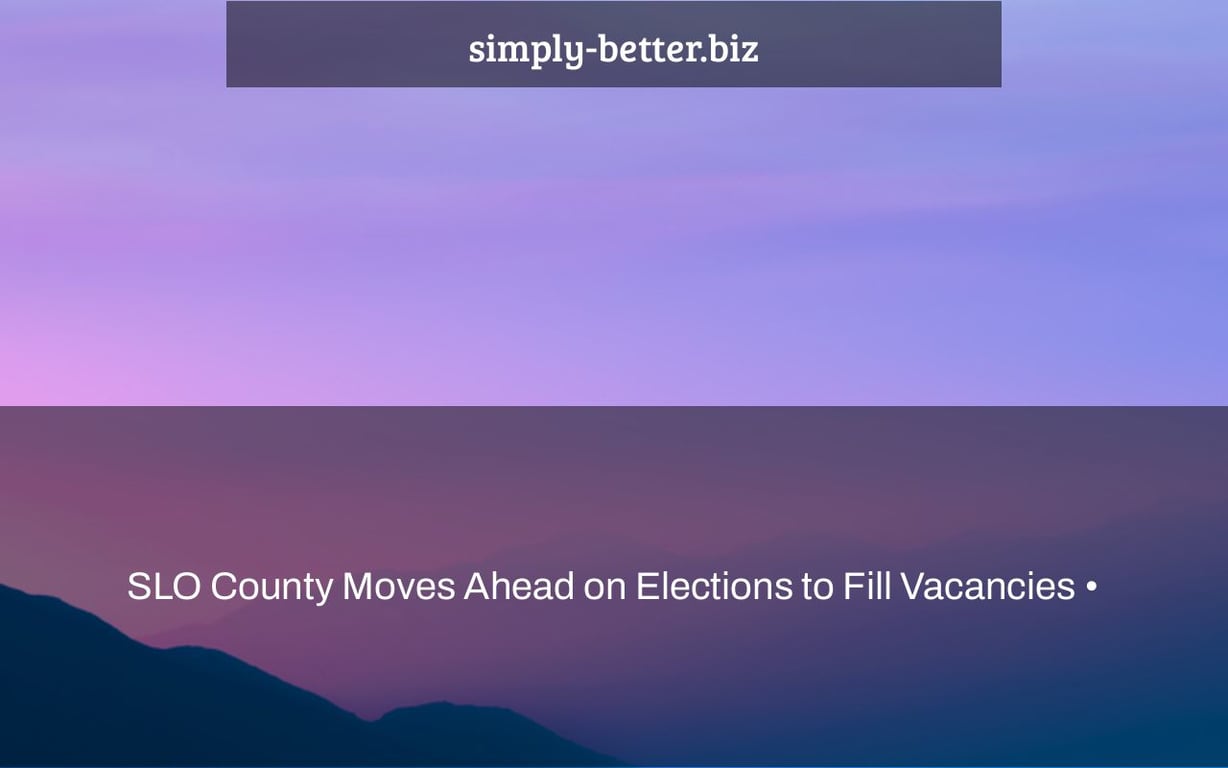 Supervisors are pursuing a county charter with the express intention of allowing voters to replace vacancies.
COUNTY OF SAN LUIS OBISPO — The San Luis Obispo County Board of Supervisors decided at a special meeting on April 5 to go ahead with adopting a charter that would require any midterm vacancies to be chosen by county voters.
The issue of filling board vacancies came up at the board's regular meeting on Feb. 15, when supervisors discussed several possibilities and asked staff to prepare a charter mandating that vacancies in any elected post with a remaining term of office of 180 days or more be filled by election.
Vacancies on the board of supervisors are now filled by appointment by the governor of California or the board of supervisors. Gov. Gavin Newsom appointed District 3 Supervisor Dawn Ortiz-Legg to the board in November 2020, after the death of prior Supervisor Adam Hill.
We're going to get through this together, Atascadero
Assistant County Counsel Jon Ansolabehere opened the meeting by explaining the process of adopting a charter and creating a policy of filling vacancies with elections. 
He said the supervisors had until June 21 to place a proposition on the November ballot for the formation of a county charter, and that submitting a charter to voters would cost $353,000.
Ansolabehere also estimated the cost of a special election to be between $354,000 and $1 million (for a supervisor's seat) (for a countywide election). He estimated that the expenditures would be between $66,500 and $313,000 if the election could be combined with a general election.
Ansolabehere's presentation included an alternate proposal for calling extraordinary elections if a vacancy arises 365 days or more after the term ends (instead of 180 days).
Following the presentation, 1st District Supervisor John Peschong asked Ansolabehere to reaffirm that the supervisors were simply attempting to create the charter for elections. 
During public discussion, the majority of speakers agreed that elections should be held to fill vacancies, but many were worried about other provisions of the charter.
"The electorate should choose who fills the vacancy," Sara Sims, a resident of the 2nd District, stated. "I'm worried about converting our county to a charter county since it allows for infinite changes."
That opinion was echoed by a number of other speakers. Cindy Murr previously described a charter as a "two-edged sword."
Another common topic in public discussion was that the supervisors should create an independent redistricting commission in addition to the charter.
One supporter was Patricia Gomez, a member of the organization San Luis Obispo County Citizens for Good Government.
She said, "Independent Redistricting Commissions are not a new notion." "They exist because they work and offer people a voice."
Following public comment, the board seemed to be ready to go through with the 365-day-or-more threshold for deciding an election, with an election called in 30 days or fewer, rather than 60. One point of contention was what to do if the vacancy occurs in fewer than 365 days.
Despite Gibson's objections about keeping the position open for so long, Arnold planned to leave it vacant until the next general election.
Gibson and Ortiz Legg agreed that an impartial redistricting commission should be established.
Ortiz Legg said, "The redistricting commission is crucial." "We can't avoid gerrymandering any other way."
The other board members, on the other hand, were opposed to this viewpoint.
"I'm not in favor of delegating our responsibilities to individuals who haven't been elected," Arnold said. "I believe we are competent of executing this job; if our supporters elect us, they have faith in our ability to do it."
Gibson proposed the creation of an independent redistricting panel, but it was defeated 3-2, with only Ortiz-Legg and Gibson voting in favor.
The board then decided 3-2 to go forward with the charter, with Gibson and Ortiz Legg voting against. The deadline for submitting the charter is June 21.
The board will discuss the issue again at its regular meeting on May 17.
As an example:
As if Loading…
Related