After releasing last year's Galaxy Buds, Samsung has finally updated the earphones to its latest generation. The Galaxy Buds 2 feature a new design and improved sound quality, but they also get a new feature: Active Noise Cancellation. This is a feature that's been integrated into all new Samsung mobile flagship devices that will automatically cancel out unwanted background noise.
The Samsung Galaxy Buds 2 were released as part of the Samsung Galaxy range, and is the second generation of the popular wireless earbuds. The Samsung Galaxy Buds 2 use a custom Bluetooth 5.0 technology that allows for a variety of connected features. They feature a 15 hr battery life, 7.5 hour battery life in active noise cancellation mode, and are IP68 water- and dust-resistant.
After having listened to the Samsung Galaxy Buds for a while now, I can safely say that they're pretty cool. The headphones have a pretty great set of features (including active noise cancellation), and they're great to listen to music while you're working out, running, doing yoga, or doing any other activity that requires your full attention. The other day, I made the mistake of using them while I was driving. How's that for a surprise?
Samsung was well-prepared for its Galaxy Unpacked presentation, and we were treated to a slew of new goods from the tech titan. Samsung also unveiled its TWS earphones and Galaxy Watch 4 series, in addition to the much-anticipated Galaxy Z Flip 3 and Galaxy Z Fold 3 smartphones. The Galaxy Buds 2 wireless earbuds are a follow-up to the first-generation Galaxy Buds, which were released a few years ago with Samsung's flagship Galaxy S10 series.
Specifications and Features of the Samsung Galaxy Buds 2
First, let's look at the design. Samsung has chosen a color palette with two tones. The outside of the case would always be white, but the insides of the case and the earphones themselves may be any color. The outside charging case looks a lot like the one that comes with the Galaxy Buds Pro.
When it comes to performance, the Galaxy Buds 2 are equipped with 11mm drivers. A 2-way speaker system with an 11mm woofer and a 6.5mm tweeter is included. Because the Galaxy Buds 2 has a three-mic microphone technology, you can anticipate excellent call quality. Along with a Voice Pickup Unit, there are two outside microphones and one inner mic. You also receive Samsung's companion app, which allows you to choose between different settings like Bass Boost, Soft, Normal, or even Treble Boost and equalization.
When it comes to connection, Samsung has chosen Bluetooth 5.2 for the earbuds, which also feature Samsung Scalable Codec, AAC, and SBC. A Gyro sensor, an Accelerometer, a Proximity sensor, a Touch sensor, a Hall sensor, and a VPU sensor are among the sensors supported by the earbuds.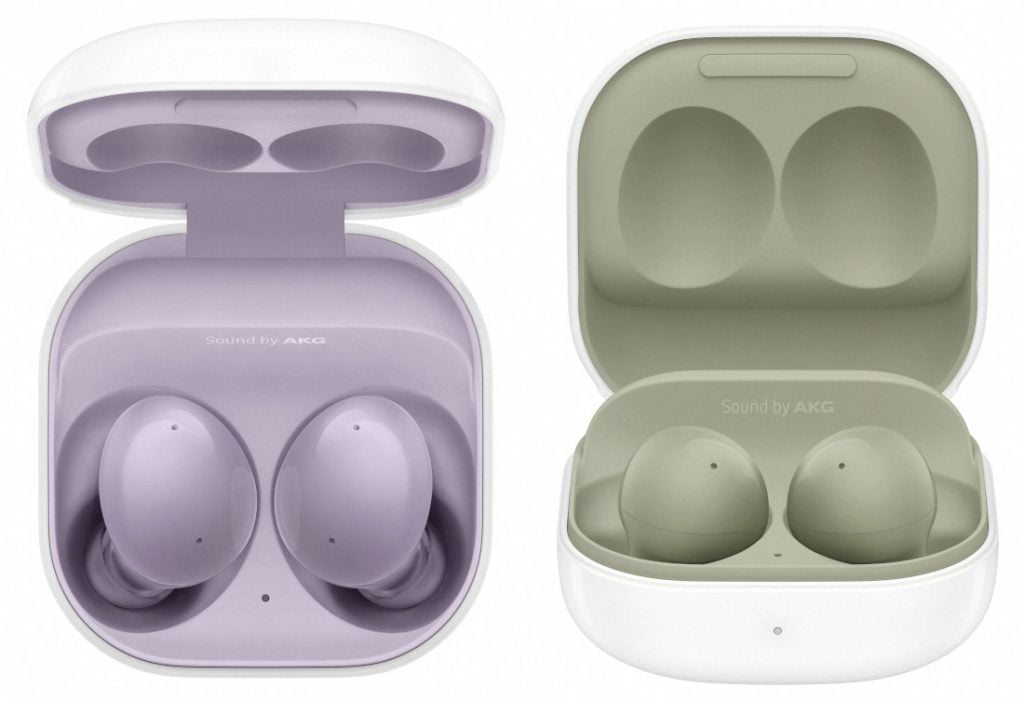 The Galaxy Buds 2's ANC, or Active Noise Cancellation, function was one of the device's major selling points. As previously stated, each bud has three microphones, two of which are used to suppress external sounds. You may anticipate your conversations to be finished without any problems or background noise when coupled with the sharp clarity of the third microphone.
When it comes to battery life, each earbud comes with a 61 mAh battery, while the charging case has a larger 472 mAh battery. Samsung says that with the ANC function activated, you can get approximately 5 hours of playing time on a single charge, but without the ANC feature, you can get about 7.5 hours of playback time. The charging case also supports Qi-certified wireless charging, which allows you to get an hour of playing time from a 5-minute charge.
Specifications and Features of the Samsung Galaxy Buds 2
The Samsung Buds 2 will be available in the United States first, with a price tag of $149.99. Lavender, Graphite, White, and Olive are the four color choices available to users. You can purchase now, and the earbuds will begin arriving after August 27. Samsung claims that the increased pricing will enable more people to enjoy rich sound, seamless connection, and more powerful features.
We don't know how much the Buds 2 will cost in India or when they will be available. Keep an eye out for further information.
Also Read:
After years of beta testing, Samsung has finally launched the successor to their Galaxy Buds, which were a runaway hit in the first generation. The new Galaxy Buds 2 are not only better sounding and more comfortable, but also feature active noise cancellation, Bluetooth 5.2, and up to 7.5 hours of battery life.. Read more about samsung galaxy buds review pcmag and let us know what you think.
Related Tags
This article broadly covered the following related topics:
galaxy buds plus noise cancelling
samsung galaxy buds plus
samsung galaxy buds live
samsung galaxy buds live 2 release date
samsung galaxy buds+