In this article, we will share with you the steps to install a Solid State Drive (SSD) in your laptop. An SSD is an alternative way to store data, so it is quite different from traditional hard disks which are used for storage purposes.
SSDs are becoming increasingly popular on laptops, and they're a great way to improve performance. However, installing an SSD is not as easy as it sounds. This article will show you how to install an SSD without reinstalling Windows.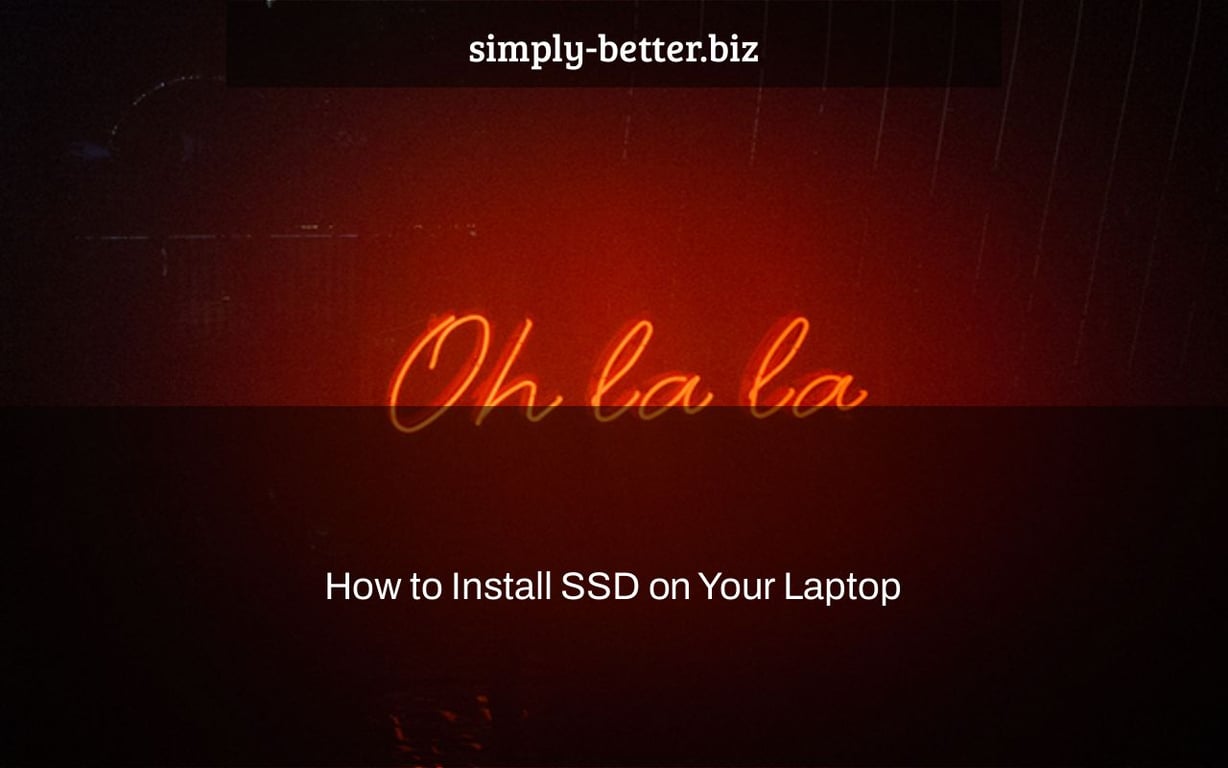 I had only opened my laptop to write a few weeks ago. So, as is customary, I opened my laptop, launched MS Word, and began writing. However, things did not proceed as planned. I didn't pay attention and rebooted my computer since MS Word was crashing with every word I entered.
It happened again, and I became upset, so I decided to write on Google Docs. It took roughly 10 minutes for Google Chrome to open after I clicked on it.
That's when I realized something wasn't right. I tried the SFC command and the DISM tool, but neither worked, and my laptop was rendered useless. 
Now, a buddy suggested that I put SSD on my laptop for a time since I was often complaining about how sluggish my laptop was despite its excellent stats on paper.
When I couldn't accomplish anything on my laptop, I knew I'd hit my limit. Do you want to hear the funny part? My laptop data were so damaged that even a factory reset didn't work, which is sort of strange when you about it. 
That's when I realized I needed to put SSD on my laptop since I couldn't complete my task. I'm not a big lover of doing technical things on my own, but a buddy pushed me to do it, since everything was closed due to the shutdown.
As a result, I installed the SSD on my own and wanted to offer my first-hand knowledge on how to install an SSD on a laptop from someone who has never done it before. 
I'll teach you how to install an SSD on your laptop in this post. If your laptop does not have an SSD, it is time to upgrade since you will be losing out on a lot of the benefits of Windows 10. 
We may get compensated if you make a purchase after clicking on one of our links. Find out more.
How to Install a Solid State Drive (SSD) in Your Laptop
Before we begin the procedure of installing SSD on the laptop, the first thing you need do is gather everything you'll need:
An SSD (of course): I would recommend that you replace your HDD with a SATA SSD since hard drives are slow and susceptible to damage. I'm a content writer who doesn't require a lot of storage, so I went with a 120GB SSD. People who conduct other tasks that need a lot of storage should invest in a larger SSD. 
A screwdriver toolbox is something that every person should have. It will be necessary to remove the little screws from your laptop. 
Once you have your SSD (which in this instance is a SATA SSD) and your tools, you may proceed to installing the SSD on your laptop. 
Step 1: Make sure you have a large, clean desk where you can easily fit your laptop and toolbox. Bring some bowls with you to put the screws you'll be removing from your laptop in. 
Note: This is a delicate and smooth operation, so take care not to overstretch your laptop or other components. Everything will go well if you carefully follow the procedures. 
Step 2: Flip your laptop over so you can view the bottom of it. 
Step 3: Begin removing the screws from the bottom of the cabinet. Many manufacturers use a rubber strip to offer traction for laptops on different surfaces, and behind those rubber strips are often concealed screws. As a result, be sure to remove those rubber strips as well as the screws. 
Step 4: Carefully set all of the screws in the bowls so you know which one goes where. 
Step 5: Gently and carefully attempt to remove your laptop's bottom casing; do not use excessive force; just pull it out firmly without hurting anything. 
Step 6: Now that the bottom cover has been removed, you can view the internals, and all you need to do now is find your HDD. 
Step 7: Finding the HDD is not difficult; it will have the storage markings and be 2.5 inches in size. 
Step 8: Once you've found the HDD, unscrew the screws keeping it in place and put them somewhere secure. 
Step 9: Carefully remove the HDD using soft hands after the screws have been removed. 
Step 10: Place your SSD in the SATA slot and secure it. It will slip perfectly in without resistance if you place it appropriately. Replace the screws you removed when removing the HDD. 
Step 11: Double-check that nothing else has been removed before gently replacing the rear cover. 
Step 12: Carefully tighten each screw one by one. 
That's all; your laptop's SSD has been successfully installed. 
However, that just covers the hardware and setup. Remember that the new SSD is blank, and you'll need to install Windows or another operating system to get it to operate. 
You may read our dedicated article on how to install the most recent version of Windows 10 on your computer and install a new copy of Windows on your laptop. 
Let me tell you something: if you've never used a system with an SSD before, you're in for a treat. Your laptop will become really speedy and responsive, which you will like. 
After installing the updated Windows on my laptop, I realized that my Nvidia Graphics Control Panel was now gone. But don't worry, I've got you covered there, too. 
Conclusion 
So that was all about How to Install a Solid State Drive (SSD) in Your Laptop and it is not that hard to do. If you are still using a laptop with an HDD, I think it is now time to install SSD on your laptop and experience that premium Windows 10 experience.
With that stated, please don't hesitate to contact us if you run into any problems. 
The "ssd upgrade" is a guide to installing an SSD on your laptop. This will improve the performance of your laptop, and also make it more reliable.
Related Tags
how to install ssd in laptop windows 10
how to install ssd in laptop with hdd
how to install m.2 ssd in laptop
ssd for laptop
how to install nvme ssd in laptop